Oogie Boogie
 (or better known as 
Oogie
) is the main antagonist of Tim Burton's 1993 animated film, 
The Nightmare Before Christmas,
 despite having little screen time. He is the personification of the common child's nightmare of the "Boogie Man", resembling a large burlap sack. When Oogie Boogie was defeated, it was revealed that he was a colony of bugs wrapped in sacking. He is also apparently "The Shadow on the Moon at Night", as the shadow shown on the moon was an exact replica of him. He is Jack Skellington's archenemy.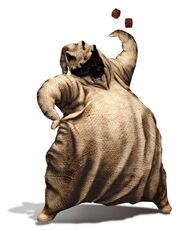 He was voiced by Ken Page.
Ad blocker interference detected!
Wikia is a free-to-use site that makes money from advertising. We have a modified experience for viewers using ad blockers

Wikia is not accessible if you've made further modifications. Remove the custom ad blocker rule(s) and the page will load as expected.